This post is brought to you by the Black Rifle Coffee Company. Not really.
But I am drinking a cup of BRCC's "Just Black" right now. And it really is fueling this post.
I finally bought some with the hopes of writing a review in the near future, so stay tuned for that.
In other news, here are some awesome articles I've found for you this week. But before that, one more thing…
MoneyMiniBlog Around the Web
Feedspot just notified me that MoneyMiniBlog is #26 on their list of "top productivity blogs for better work-life balance." I'm honored to be listed so highly, in front of so many other awesome blogs that I know produce very awesome content.
Survey Bee featured us on their list of the top 80 best money management blogs and websites (see the about page), and I have actually been on several other finance blogger lists, but this is the first list I've made that was solely dedicated to productivity blogs.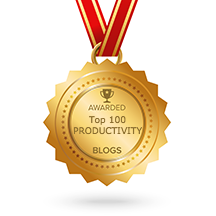 It's nice to see the productivity side of MoneyMiniBlog growing as well.
I'm also now a contributor to Optimal Living Daily, a podcast that reads blog posts aloud. You can hear my first post, "If You Want Freedom, Limit Yourself," on the device of your choice: iPhone | Android | Web (Episode 216).
This Week in Money and Productivity
This week, I published two articles. I've also changed my guidelines for your guest contributions. I've completely stopped accepting posts from businesses looking for advertising. I now only accept guest posts for bloggers looking to expand their audience. You can see all of my new guidelines here. Here's what I wrote this week:
Now from around the web:
One Minute Goal Setting for Your Finances (Budgets Are Sexy) – An interesting look into a quicker way to set goals, from The One Minute Manager.
The Domino Effect: How to Create a Chain Reaction of Good Habits (James Clear) – Habit building and habit stacking are two of my favorite subjects. James goes over how one habit affects the next.
10 Things I Believe About Investing (A Wealth of Common Sense) – 10 quick points that Ben has about investing. I agree with him.
Your Goals are Overrated (Mark Manson) – An awesome in-depth article comparing goals and habits, similar to my article on the same topic, but way more detailed.
12 Inexpensive Ways to Financially Make Someone's Day (Life and My Finances) – I always love a good article on giving or serving others.
New Money/Productivity Facebook Group
This is the first public announcement of this. You can now join MoneyMiniBlog Community, a new Facebook group created to discuss everything related to money and productivity. Request to join here, and bring all your questions, comments and anything else you want to say. We're growing rapidly. The group has only been around for a week + this is the first public announcement, and we already have over 50 members. Join the conversation!
Quick Diet Update
I've still been enjoying the Cyclical Ketogenic Diet, though while I was sick a few days this week, I didn't eat much other than soup and bread. I'm not sure why our bodies seem to crave carbs when we're sick, but I feel like if you were to train your body to use fat for energy, after a few years your body may actually crave fat when you're sick.
Something to say? Comment below!